News
Latest updates from the campaign:
Monday, August 5, 2019 7:53 PM
New Events and Yard SIgns in August!
New events have been posted for the month of August and more will arrive shortly. We have also ordered our yard signs! If you would like to reserve one, please click on the Contribute or Contact button right now. I need your votes and donations to advertise and to have the only Veteran on the RCC.
---
Thursday, June 6, 2019 12:02 PM
Events in June & Filing Begins in July.
Multiple events are happening in June from BRT, biking, fundraising, & first responders. Please head over to the events page to see details on future events.
Candidate filing also begins next month on July 5th. I need your help to get the word out all over the city. Please consider donating today so we can have a representative in the Raleigh City Council that cares about growth, liberty in our backyards, and a leader who still serves today.
Thank you,
James G. Bledsoe
---
Thursday, February 28, 2019 12:53 PM
Campaign Kickoff Event
Bledsoe For Raleigh City Council Campaign Kickoff
Raleigh needs new leadership and representatives. As a combat veteran with over a decade in the Army, I feel that I can be that new representative. Come out to the MLK Memorial Gardens on March 23rd and show your support for a candidate that cares about Raleigh, wants it to grow, & someone who plans for our future.

If you want Raleigh to have:
* ADUs
* Short Term Rentals (AirBnB)
* Bike, Bus, & other Green Transit Support
* A better & denser infrastructure
* A pro small-business attitude
* First Responders supported
* Unreasonable Overlays/Ordinance gone
* Veteran outreach
* An achievable affordable housing plan
* A place for everyone!

I am the At-Large candidate for you!

Please visit www.electjamesbledsoe.com to learn more about me and how I want to help you and our city. Twitter users can also find me on my campaign page.
1500 Martin Luther King Jr Blvd
Raleigh, NC 27610
319-538-7336
https://www.facebook.com/events/411301659647683/
---
Thursday, February 21, 2019 4:01 PM
VPA Endorsement
On 21 February, I was honored by the Veterans Party of America and its affiliate, the VP of North Carolina, to be endorsed. Here is the signed endorsement from the VPNC Secretary.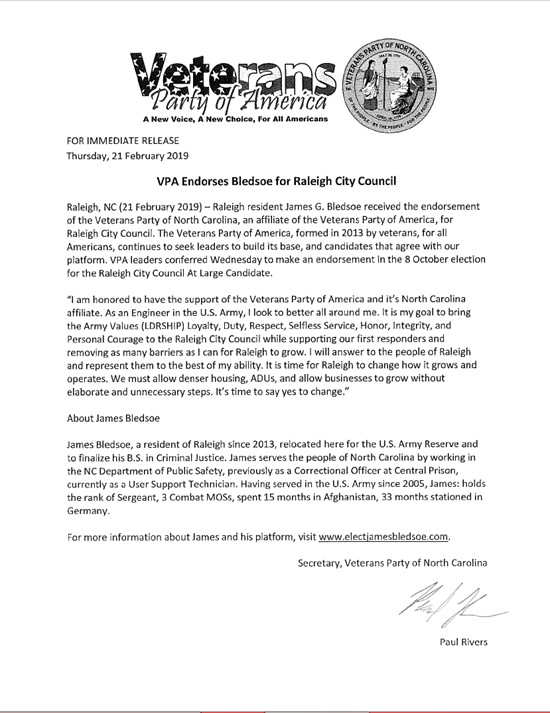 ---
Wednesday, November 21, 2018 12:00 AM
Dickie Thompson's recommendation to raise the fee per scooter to $300 passes, Bird & Lime determine whether or not Raleigh is worth the hassle, & the image of Raleigh being pro-business worsens.
---
Wednesday, October 10, 2018 3:27 PM
Tshirts for sale!
We have T-shirts for sale in a variety of colors! Show your support for the At Large Candidate by purchasing a T-Shirt that say you support a change in the Raleigh City Council and the issues I am fighting for. Every T-shirt goes to the Committee to Elect James Bledsoe and helps get your voice heard! Click on the image below to get yours today!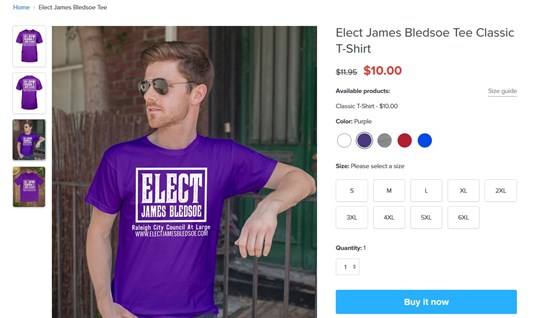 ---
Saturday, September 22, 2018 7:00 AM
Candidacy Anncouncement
Today is a great day indeed! On this 22nd day of September, I, James G. Bledsoe, announce my candidacy for the seat of At Large for the Raleigh City Council in 2019. There's a lot of work to be done, but I am excited for every bit of it. Stop by the issues page to read up on what I am standing for and then please head to the volunteer &/or donate pages to support a candidate that wants this to be a Raleigh City Council that says "Yes!"