Welcome one and all!
I am running for the Raleigh City Council seat of At Large in 2019 and would love your support. Please browse through the navigation bar above to learn about me, my platform, see news, updates, events, as well as see my live Twitter and Facebook feed.
Stay informed about how I plan to be the voice that says "Yes!" while the current Raleigh City Council says "No!" From wanting Raleigh to be fun and vibrant, such as riding scooters throughout the city or promoting entrepreneurs, to opposing unnecessarily long zoning hearing that costs everyone money... Let's usher in a Raleigh City Council that is more in touch with its citizens, first responders, is pro-business, and will actually be representatives.
Vote Bledsoe in 2019!
News
Wednesday, November 21, 2018 12:00 AM
Dickie Thompson's recommendation to raise the fee per scooter to $300 passes, Bird & Lime determine whether or not Raleigh is worth the hassle, & the image of Raleigh being pro-business worsens.
---
Wednesday, October 10, 2018 3:27 PM
Tshirts for sale!
We have T-shirts for sale in a variety of colors! Show your support for the At Large Candidate by purchasing a T-Shirt that say you support a change in the Raleigh City Council and the issues I am fighting for. Every T-shirt goes to the Committee to Elect James Bledsoe and helps get your voice heard! Click on the image below to get yours today!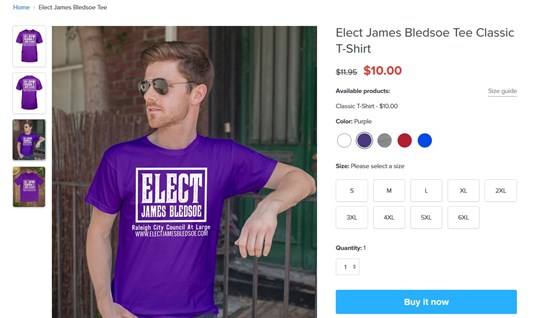 ---
Saturday, September 22, 2018 7:00 AM
Candidacy Anncouncement
Today is a great day indeed! On this 22nd day of September, I, James G. Bledsoe, announce my candidacy for the seat of At Large for the Raleigh City Council in 2019. There's a lot of work to be done, but I am excited for every bit of it. Stop by the issues page to read up on what I am standing for and then please head to the volunteer &/or donate pages to support a candidate that wants this to be a Raleigh City Council that says "Yes!"