News
Wednesday, September 4, 2019 12:00 AM
The Raleigh Police Protective Association and the Raleigh Professional Fire Fighters Association announced joint endorsements today for Raleigh mayor and city council races. The candidates endorsed by the two public safety organizations are as follows:
Charles Francis — Mayor
Sam Hershey — District A
David Cox — District B
Corey Branch — District C
Kay Crowder — District D
Stef Mendell — District E
Russ Stephenson — At Large
James Bledsoe — At Large
"The brave men and women who patrol Raleigh's streets and protect lives and property each and everyday heard from the municipal candidates directly on issues important to police, firefighters, and the public," said RPPA President Matt Cooper and RPFFA President Shawn Burns. "We believe the candidates we've endorsed, led by mayoral candidate Charles Francis, will stand by the public safety profession and invest in the resources to keep Raleigh a vibrant and safe city."
RPPA and RPFFA held a Raleigh mayoral forum on August 27 that was open to the public and included all six candidates running for mayor. Candidates were asked eight questions on pay, benefits, and resources. The following day, city council candidates were screened in one-on-one interviews with both organizations.
"This year's municipal election is an important one for Raleigh's police officers and firefighters, one we feel we will have a positive impact on," said Burns and Cooper in a joint statement. "Our city will elect a new mayor and we believe that next mayor — Charles Francis — will make its city employees and public safety a priority."
Election day is Tuesday, October 8 and early voting starts September 18.
The Raleigh Police Protective Association is the law enforcement division of Teamsters Local 391. The Raleigh Professional Fire Fighters Association is an affiliate of the Professional Fire Fighters and Paramedics of North Carolina and the International Association of Fire Fighters.
---
Monday, August 5, 2019 7:53 PM
New Events and Yard Signs in August!
New events have been posted for the month of August and more will arrive shortly. We have also ordered our yard signs! If you would like to reserve one, please click on the Contribute or Contact button right now.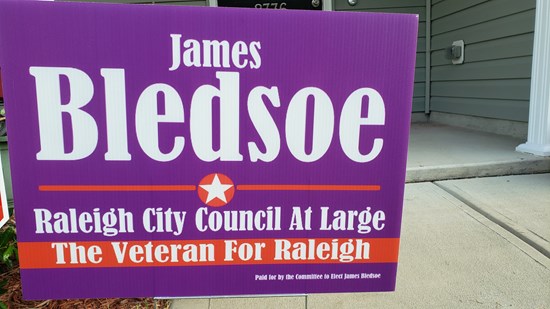 ---
Thursday, June 6, 2019 12:02 PM
Events in June & Filing Begins in July.
Multiple events are happening in June from BRT, biking, fundraising, & first responders. Please head over to the events page to see details on future events.
Candidate filing also begins next month on July 5th. I need your help to get the word out all over the city. Please consider donating today so we can have a representative in the Raleigh City Council that cares about growth, liberty in our backyards, and a leader who still serves today.
Thank you,
James G. Bledsoe
---
Thursday, February 28, 2019 12:53 PM
Campaign Kickoff Event
Bledsoe For Raleigh City Council Campaign Kickoff
Raleigh needs new leadership and representatives. As a combat veteran with over a decade in the Army, I feel that I can be that new representative. Come out to the MLK Memorial Gardens on March 23rd and show your support for a candidate that cares about Raleigh, wants it to grow, & someone who plans for our future.

If you want Raleigh to have:
* ADUs
* Short Term Rentals (AirBnB)
* Bike, Bus, & other Green Transit Support
* A better & denser infrastructure
* A pro small-business attitude
* First Responders supported
* Unreasonable Overlays/Ordinance gone
* Veteran outreach
* An achievable affordable housing plan
* A place for everyone!

I am the At-Large candidate for you!

Please visit www.electjamesbledsoe.com to learn more about me and how I want to help you and our city. Twitter users can also find me on my campaign page.
1500 Martin Luther King Jr Blvd
Raleigh, NC 27610
319-538-7336
https://www.facebook.com/events/411301659647683/
---
Thursday, February 21, 2019 4:01 PM
VPA Endorsement
On 21 February, I was honored by the Veterans Party of America and its affiliate, the VP of North Carolina, to be endorsed. Here is the signed endorsement from the VPNC Secretary.