News
Thursday, February 28, 2019 12:53 PM
Campaign Kickoff Event
Bledsoe For Raleigh City Council Campaign Kickoff
Raleigh needs new leadership and representatives. As a combat veteran with over a decade in the Army, I feel that I can be that new representative. Come out to the MLK Memorial Gardens on March 23rd and show your support for a candidate that cares about Raleigh, wants it to grow, & someone who plans for our future.

If you want Raleigh to have:
* ADUs
* Short Term Rentals (AirBnB)
* Bike, Bus, & other Green Transit Support
* A better & denser infrastructure
* A pro small-business attitude
* First Responders supported
* Unreasonable Overlays/Ordinance gone
* Veteran outreach
* An achievable affordable housing plan
* A place for everyone!

I am the At-Large candidate for you!

Please visit www.electjamesbledsoe.com to learn more about me and how I want to help you and our city. Twitter users can also find me on my campaign page.
1500 Martin Luther King Jr Blvd
Raleigh, NC 27610
319-538-7336
https://www.facebook.com/events/411301659647683/
---
Thursday, February 21, 2019 4:01 PM
VPA Endorsement
On 21 February, I was honored by the Veterans Party of America and its affiliate, the VP of North Carolina, to be endorsed. Here is the signed endorsement from the VPNC Secretary.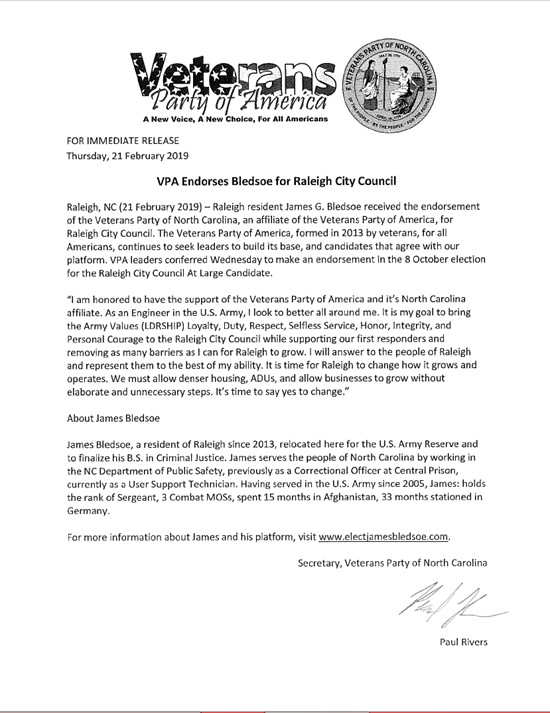 ---
Wednesday, November 21, 2018 12:00 AM
Dickie Thompson's recommendation to raise the fee per scooter to $300 passes, Bird & Lime determine whether or not Raleigh is worth the hassle, & the image of Raleigh being pro-business worsens.
---
Wednesday, October 10, 2018 3:27 PM
Tshirts for sale!
We have T-shirts for sale in a variety of colors! Show your support for the At Large Candidate by purchasing a T-Shirt that say you support a change in the Raleigh City Council and the issues I am fighting for. Every T-shirt goes to the Committee to Elect James Bledsoe and helps get your voice heard! Click on the image below to get yours today!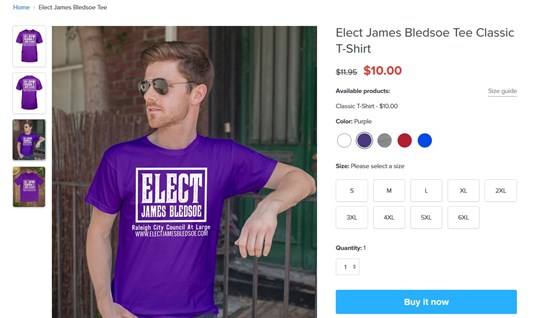 ---
Saturday, September 22, 2018 7:00 AM
Candidacy Anncouncement
Today is a great day indeed! On this 22nd day of September, I, James G. Bledsoe, announce my candidacy for the seat of At Large for the Raleigh City Council in 2019. There's a lot of work to be done, but I am excited for every bit of it. Stop by the issues page to read up on what I am standing for and then please head to the volunteer &/or donate pages to support a candidate that wants this to be a Raleigh City Council that says "Yes!"